Information
Here you can find all you need to know about Ängby Camping.
If you have any questions your welcome to sen an email to reservation@angbycamping.se or give us a call at +46 8 370 420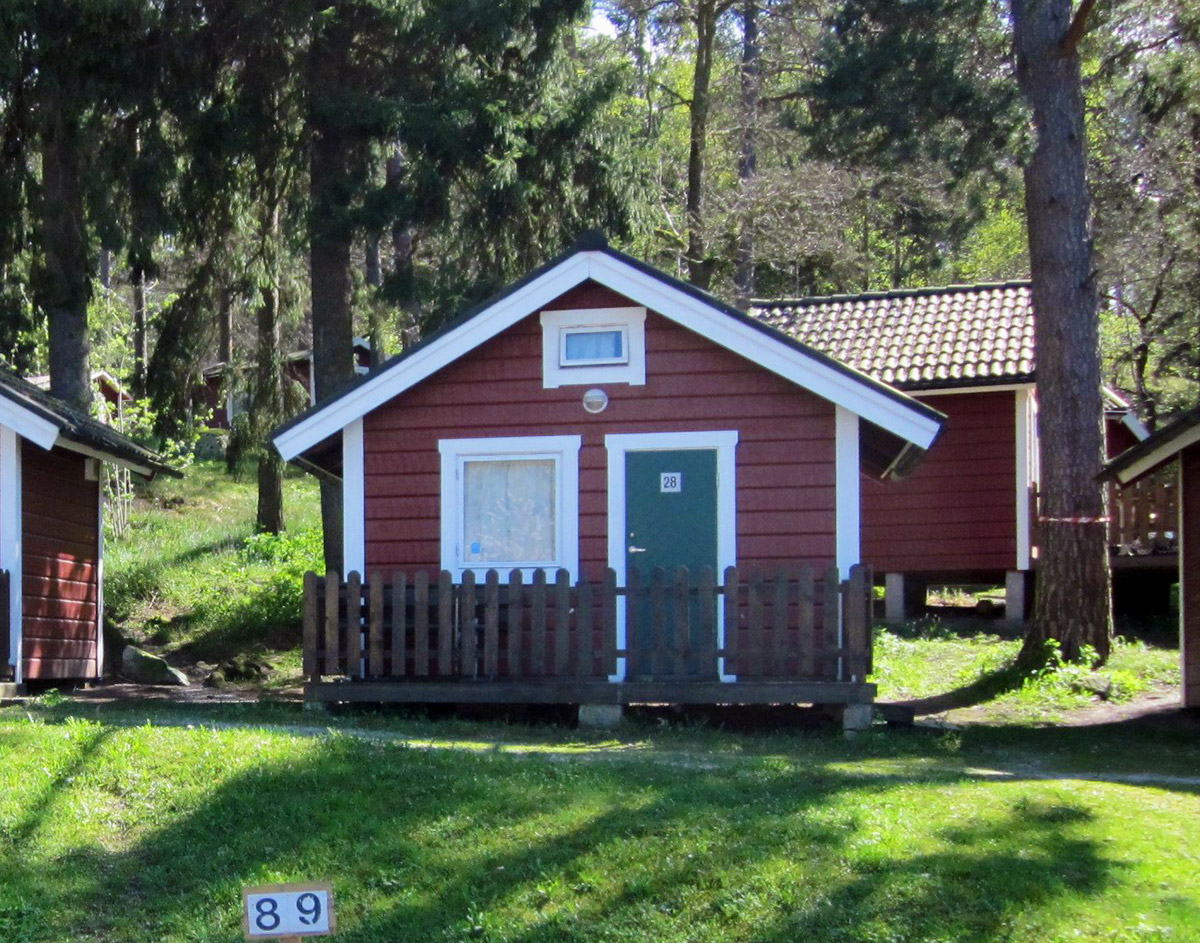 Ängby Camping
Welcome to Stockholm's most charming campsite.
Stockholm Ängby Camping with a unique location, in close proximity to Stockholm's inner city along the shores of Lake Mälaren.
With its enormous charm, the fantastic location of Mälaren's sparkling water and its proximity to Stockholm, with nice connections that take you to the center of the city in about 20 minutes, Ängby camping becomes an attractive place with a nice accommodation for both Swedish and foreign tourists
Ängby Camping has a history since the 40's that we have carefully tried to preserve. The feeling is a little nostalgic with accommodation in small cabins or with your caravan in smaller places, just like in old times.
In some areas, time has almost stood still with an older charming reception desk, dining room with beautiful flower boxes and all amenities you need in well-maintained service houses, where there is also a kitchen and laundry room.
The unique location of the campsite provides the great potential for those who want to enjoy Stockholm's wide range of activities and amusements, welcome!
Booking
If you want to book a lodge you can send us an email reservation@angbycamping.se or phone us at +46 8 370 420. ONo reservation needed for campers, caravans or tents, only drop-in.
You can stay for a maximum of 7 nights at the campsite in a tent, caravan or motorhome.
Facilities
We have cabins, tent area and spaces for caravans/motor- homes with electricity and a few of the lofthouses with cabel-TV.
The reception offers a kiosk, a café and a food shop with freshly-baked bread during the high season. The two service houses are equipped with laundry facilities and kitchen.
Near the camping is a restaurant, grocery store, tennis courts, boats for hire and more.
Latrine tanks disposal is available for motor-homes. Dogs are permited.
Opening hours
We are open all year
| | | | | |
| --- | --- | --- | --- | --- |
| May 1 - May 31 | Mon-Sun | 9am-9pm | | |
| June 1 - Aug 27 | Mon-Sun | 8am-9pm | | |
| Aug 28 - Sept 10 | Mon-Sun | 12pm-8pm | | |
| Sept 11 - March 30 | Mon-Fri | 4pm-8pm | | |
| Sept 11 - March 30 | Sat-Sun | 12pm-6pm | | |
Address
Blackebergsvägen, 168 52 Bromma
Tel. +46 8 370 420
E-mail: reservation@angbycamping.se
Traveling directions
If you are coming from the E4 south: turn after Essingeleden towards Vällingby, take road 275. When at Brommaplan, turn in the direction of Drottningholm and then turn again after 1 km to the right for Södra Ängby.
If you are coming from the E18 west: turn right at Barkaby towards Vällingby, take road 275, at Islandstorget turn right again to Södra Ängby.
If you are coming from the E4 north: turn right at Akalla, take road 262, cross the E18 towards Vällingby, road 275. Turn right at Islandstorget to Södra Ängby.
Subway: Ängbyplan. 5 minutes walk to Ängby Camping.
Good to know
BBQ – BBQ is not permitted in the camping area. On the beach there are new, nice, large BBQ's where you can cook. Charcoal and lighter fluid are available at the reception.
Calm & Tranquility - must prevail between 23.00-06.00.
Car traffic - Allowed within the area at 05.00-22.00. In case of late arrival, park the car in the guest parking lot.
The boom is closed at 22.00-05.00. Some traffic with work vehicles may occur during the day.
Check-in Cottages - Access at 3pm
Check-in campsite - Access during opening hours.
Check-out camping site - no later than 3 p.m. A new daily fee is charged after 3 p.m.
Check-out cabins - must take place no later than 12.00.
Defibrillator – available at reception.
Dogs – must be kept on a lead and rested outside the area. For everyone's comfort, pick up after your dog!
Electric car – It is absolutely forbidden to charge the electric car directly in the electricity pole on your site or in an outlet in your cabin.
Electricity & TV - Use only approved equipment for outdoor use. You can borrow TV cable at reception. EU adapters can be purchased at reception.
Fire extinguishers - Available at each service house, in the cottage village, reception and at prime locations on the campsite. Make sure you know where the nearest fire extinguisher is. The locations are marked with red signs on the area map
Garbage - To be placed in the blue containers, the large bins or the smaller ones, designated for garbage.
Internet - When you stay with us, free WiFi is included.
Laundry room – Washing machines and dryers are located in the service building by the reception. Payment is made with tokens that you can buy at the reception.
LPG - can be exchanged at Preem Islandstorget.
Shower fee - SEK 15/5 minutes. Shower tokens are available for purchase at reception.
Speed limit – the entire area is a pedestrian zone. No car traffic between midnight and 5am.
Smoking - is prohibited in public buildings, in the cabins and the waterslide area. Don't throw farts on the ground, think of the children and the animals!
Swedish summer –  Swedish summer means that there can be flies, wasps, ants and other insects to a greater or lesser extent. This is something for which we cannot be held responsible. If major problems arise, contact the reception.
The service houses - There are two service houses in the camping area, equipped with showers, wc, kitchen and laundry room. Nursery room, Handicapped shower/toilet is in one of the service buildings. For access to the Nursery room and disabled shower/toilet, contact reception.
Toilet waste - Empty into a separate drain above reception. Excellently available on the camping map and with a sign (Chemical Toilet)
Water – Help us conserve water. Do not wash under running water. It is not permitted to wash the car, caravan or motorhome.
Water slide - For information on when it is open, follow us on instagram angbycamping.